If you are in a relationship with someone who struggles with addiction, then no doubt you have tried many things to stop their frustrating behaviors. And over time – perhaps many years – you have found that your nags, threats, pleads and scolds have for the most part fallen on deaf ears.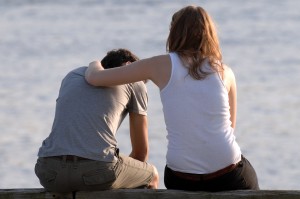 Now you may be angry, frustrated, depressed or just resigned that things will not change. Or, perhaps you have just discovered that your loved one (from here forward this also includes loved friends) has an addiction and you are scared and not sure what to do.
In either case, I am glad you made your way here, because I have some positive news for you.
There is an approach to helping yourself and your loved one that science has shown to be incredibly effective, it's called the Community Reinforcement and Family Training program, or CRAFT for short. It's a behavioral intervention that teaches you skills to reduce your loved ones addictive behaviors and motivate him/her to seek treatment.
At the same time – and just as important – the program helps you reduce your own stress around your loved one's addiction, and develop a more peaceful, fulfilling and joyful life independent of your loved one and their behavior.
Sound too good to be true? It's not. The program has been around for over thirty years, tested thoroughly in many research studies, and is way more effective than attending Al-Anon meetings or getting family and friends together and doing some type of intervention. While these approaches are well known, sadly they just don't work very well.
How to learn CRAFT and begin to implement it in your life?
Step 1: Learn and Implement CRAFT
Learning CRAFT is not overly difficult, but it will require a bit of time and effort on your part. If you are thinking why should I do all this work when I am not the one who has the problem, then keep in mind how much time and energy you have already invested in changing your loved one's behavior to no avail.
If it feels like you have been running a marathon to get your loved one to change, then imagine you are at mile 20 and have only six miles to go. Those last six will take effort, but you did not run the first twenty miles to give up now, did you?
Your first step is learning the basics of CRAFT and implementing the program in your life. Here are the best resources I have found to get you started on your journey:
Read
Get Your Loved One Sober: Alternatives to Nagging, Pleading, and Threatening
by Bob Meyers and Brenda Wolfe. And if you like all the research behind CRAFT, definitely check out Dr. Robert Meyers personal website.
Watch
Series of short videos –  Ideas on how to help family and friends with addiction – on YouTube, and then check out the helpful resources at Sober Families, including a free 10-week email program based on CRAFT.
Join
Allies in Recovery, the online home for millions of family members.  Learn CRAFT through 8 interactive video modules, blog with CRAFT and treatment experts, engage with others in your shoes, figure out treatment, and learn how to successfully employ CRAFT in your life.
While these resources may be all you need, if you feel overwhelmed, lost in knowing where to begin, or prefer to have someone coach you in getting started, there are some wonderfully helpful CRAFT experts that can assist you by phone, Skype, email or in person if you happen to be located where they work.
Two that I know personally and highly recommend are:
Dr. Dominique Simon-Levine
Dominique is the force behind Allies in Recovery which she has ran since 2003. She is a CRAFT expert who has been featured on HBO and NPR, and has worked extensively in the substance abuse treatment field primarily in Massachusetts and New York.
If you are interested in talking with her about your situation and getting help implementing CRAFT in your life, you can schedule a phone session by contacting her scheduler Jeanine Bedard at 413-272-8170.
Dr. Mark Edison
Mark is a clinical psychologist who knows how to successfully coach you in CRAFT skills beyond books and videos. He's done plenty of phone consultations, and also is an expert in helping those who struggle with drinking find ways to either cut down or stop their use of alcohol altogether.
You can reach him directly at 917-399-5594 or learn more about him and his work at NY Alcohol Solutions.
Step 2: Learn About Addiction and Treatment
The CRAFT program was developed to assist you in motivating your loved one to seek treatment for their addiction. So one of the most important CRAFT assignments is doing your homework about addiction treatment programs, and knowing where you would like your loved one to go when they are ready. This of course means you need to know a bit about addiction and how best to help your loved one, including the wise use of treatment, which is the intent of this website.
Again, this requires a bit of work on your part, but figuring out the best treatment option for your loved is essential if things are to change for the better in a permanent way. While you may believe you already know plenty about addiction and treatment – and maybe you do – my experience is that most know less than they think they know.
For example, do you know all of the FDA approved medications that can help reduce drinking? The point is that what you don't know, can lead to poor treatment outcomes where you eventually give up hope that change is possible.
While there are many resources on this site to help you understand addiction and treatment, I have put together an abbreviated list below to give you a crash course on what is most important.
Learn About: Addiction
What are addictions about? Relationships
The 3 relationships: Self, Others and All
Videos: Understanding addiction
Learn About: Treatment
Investing in addiction treatment. Is it worth the cost?
Top 10 reasons why treatment fails patients
How to find appropriate treatment  
 Learn About: 5 Actions
5 Actions: The solution to addiction
Hopefully, after reviewing this information you are now in a better position to know what type of treatment(s) would work best for your loved one. Some people do best in community-based programs, with lots of group support and an abstinence-based approach. Others do better working with a private practice clinician who can customize treatment based on individual preferences.
If you suspect your loved one may need to be detoxed from alcohol or drugs prior to entering treatment, then knowing where this can be done will be critical. Many treatment programs can assist with this step if you ask them.
Treatment options
Because those who struggle do better if they take some ownership of their treatment, having a list of options that you have prequalified can be useful. That way your loved one does not have to waste valuable time navigating an overwhelming addiction treatment system, but can focus on a select list of options provided by you.
For example, your list of options might include:
1) Consult with primary care doctor who can monitor health, coordinate detoxification care if necessary, and provide valuable long term management support of recovery.
2) Have an introductory session with a private practice clinician with expertise in addiction. Have 2-3 names available, including websites where your loved one can decide who they want to see, and contact information.
3) Call and/or visit an outpatient treatment program to learn about their services and whether enrolling is a good fit. Again, have at least two programs, but no more three as options if possible.
4) Consult with an addiction psychiatrist on potential benefits of using addiction and other psychiatric medications to improve treatment outcomes. Have at least one name available, and contact information.
5) If you know that your loved one would benefit from a residential treatment program following detoxification, then have 2-3 programs with contact information available for your loved one to investigate.
6) Develop a list of resources for your loved one to check out, including: websites (like this one!) books, and videos (like the HBO Addiction DVD)
Step 3: Consider Counseling for Yourself
Life is challenging and we all can benefit from working with a counselor from time to time. My final suggestion is to consider whether your life feels stuck for reasons beyond your loved one's addiction, and whether seeking out counseling for yourself may be useful.
In my experience, it's a lot easier to focus on someone else's problems than to admit we have issues of our own that could benefit from therapy. But the simple truth is we all have issues, even if we don't think we do! In fact, it's the people who think they have nothing to work on in therapy that often are the most stuck in life.
Seeking out your own counseling separate from working CRAFT may be a lot right now, so no pressure to do this step if it does not feel right. But if you know that there are things that hold you back in life – erratic moods, unresolved trauma, grief, or lack of spiritual meaning and life purpose – then by all means seek out your own therapist.
As a final word of warming on this step, not all counseling can be beneficial. I encourage you to read How to Find a Good Therapist and steer clear away from any who are not supportive of your CRAFT work.