There has been a push to understand and define addiction in our society as a brain disease, primarily because of the strong evidence from neuroimaging studies that have identified clear changes in the brain for those who struggle with addiction. At the same time, others have provided evidence that addiction is an adaptive response to underlying, unresolved, adverse childhood experiences (i.e., the ACE Study). We know the truth is that both are right.
Roughly 80% of those who go down the path of addiction begin prior to the age of 15. So early life experiences are critical to understanding this problem. Although the ACE study provides significant insight into the roots of addiction, we must also factor in to the equation a wide range of risk and protective factors, as well as genetic vulnerability.
Addictions are about 3 relationships
While I support incorporating all of these perspectives into our understanding of addiction, I believe how we understand this challenging problem should link directly with how we treat it. For me, this has led to a reconceptualization of how I understand and define this problem, one that I want to share with you. It involves understanding and defining addiction by three relationships to self, others and our faith.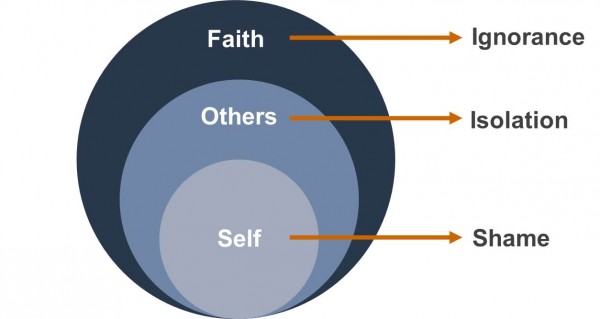 1) Self
The relationship with Self is best characterized by shame. Early adverse childhood experiences (and other risk factors) set-up a belief system that something is wrong with Self, and addictive behavior over time becomes a powerful way to manage the trance of feeling unworthy. To add fuel to the fire, when attempts to stop addictive behavior fail, shame and feelings of unworthiness deepen even more, creating a destructive cycle that results in great pain for the Self and those around the person struggling.
2) Others
The relationship with Others is best characterized by isolation. Isolation occurs because the developmental capacities necessary to initiate, form, and maintain healthy relationships with others become constricted over time, due to spending considerable time with objects of addiction (e.g., alcohol, drugs, porn, food) instead of people. 
In essence, adults who struggle with addiction are childlike in their ability to be in relationship with others. This makes it hard to hold jobs, parent kids, remain in committed, intimate relationships, and build community. It also helps explain why about 80% of those behind bars struggle with addiction, as well as many who return home from war and feel isolated and disconnected from those who have not had similar war experiences.
3) Faith
The third relationship is best characterized by ignorance. Here I use the term faith very broadly, similar to James Fowler's conceptualization in his seminal book the Stages of Faith (where Faith is defined as the force field of life). Those who struggle with addiction become preoccupied with the Self (and Others) to the point that they remain ignorant of the big picture of life and why we are here in the first place. It's no coincidence that at the moment of orgasm, the instant the body feels the sensations from a drug, or the second one realizes they have had a Big Win on the poker table, the words "Oh God" come forth. Going deep into addiction is a search for the God in all of us, for the infinite, the timeless, and the true.
Intervention paths
Our interventions should target all three relationships, which I should add, are hardly independent, but linked together in an interdependent system. Work on one relationship impacts the others. There are two broad paths or categories of interventions:
The Path of Action
The first path is often associated with typical interventions and treatments. The path of action happens in our conscious (waking) states, when we "do" things. While there are many things that can help you overcome addiction, instead of providing you a laundry list of options – which I don't believe to be overly helpful –  I have grouped the things you can do into five broad actions, or what I call the 5 Actions. The idea behind the solution is that as you work your way through each of the 5 Actions, each of the three relationships are transformed so that:
Shame becomes Acceptance
Isolation becomes Connection
Ignorance becomes Enlightenment
The Path of Non-Action or Contemplation
The path of non-action or contemplation is equally important, and involves using contemplative practices (like meditation) to detach from objects of addiction and embrace our spiritual nature. If you consider meditation an action, then I guess you could make an argument that perhaps there is only one path. But doing contemplative work in essence is about "just being" which takes us back to a path of non-action. This work can profoundly impact all three relationships, but without question has the power to transform ignorance in all its forms into insight, understanding, purpose, meaning, and yes…if you go far enough, even enlightenment.
As a parting thought on this topic, engaging all three relationships allows us to incorporate all we know about addiction. We can incorporate insights from neuroscience, medications, and healthy living into our treatments and interventions. And, we can evaluate outcomes more holistically when we consider how our interventions impact and change the three relationships.