I've mentioned Dr. Robert Thayer before on this site, but have not dedicated a blog entry to his ideas until now. When I first read his book, Calm Energy: How People Regulate Mood with Food and Exercise, I was immediately impressed by the implications of his  work for those struggling with addiction.
In a nutshell, he provides a very strong case that many of our moods and unhealthy eating habits have in common two bio-psychological dimensions that he calls energy and tension. In an earlier book (The Origin of Everyday Moods, 1996) he describes how the dimensions can be used to create the illustration below.
States of energy and levels of stress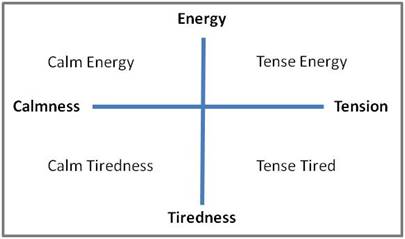 #1 Calm Energy
Calm Energy is the quadrant where we find our best moods. We have energy and no tension. It is similar to the states people call flow or being in the zone. It is a place we want to be, where our attention is focused, we are productive, and we feel good about life.
It is not a place where addiction is found, and in fact, is really the antidote to cravings and addictive appetites.
#2 Tense Tiredness
Tense Tiredness is the opposite of Calm Energy. This unfortunately is the place many of us find ourselves these days, in large part due to the speed of life, decreases in sleep, and increases in stress. It is a place of low energy, bad moods, anxiety and depression. It is also the state where addiction thrives.
When we feel tense and tired there is a natural tendency to want move away from this state, and addictive behaviors are among the most powerful, reliable, quick, and easy ways to disconnect from Tense Tiredness. I say disconnect because engaging in addictions does not really provide an antidote to this state.
Instead, it may in the short run give us more energy, and change our mood, but only temporarily. When the addictive behavior ceases, chances are good that what follows will be more tension and lack of energy, perpetuating the relapse cycle.
#3 Calm Tiredness
I like to think about Calm Tiredness as a lazy Sunday afternoon. In general, it is a pleasant state, but often not as productive or positive as Calm Energy. Nothing wrong with it, and in fact we need down time to recharge our batteries.
#4 Tense Energy
Tense Energy is the final state. Where we are quite productive and busy, often due to deadlines and being rushed for time. Many Type A personalities fit this state, as well as those who like to live on the edge and seek out thrills.
Track your own energy
In my own life I find the model incredibly useful in helping me understand my own eating, exercise, sleep, and mood patterns. One of the best things you can do for yourself is take a day (or two) and track your level of energy and tension by the hour.
Rate each on a scale of 1 to 10 and then plot the results on a graph. It is revealing to see just how significantly these states change in the course of an average day.
The graph also helps to identify intervention points for:
Preventing relapse
Developing optimal times for exercise
Evaluate whether we are getting enough sleep
In addition, the graph can help you understand how time of day subtly influences how we think about life problems.
In sum, addiction most often shows up when we are tense and tired, but can also occur in the other states as well. Among the most significant points Dr. Thayer makes in his book is that the single best way to cultivate a life of calm energy is by developing a regular habit of exercise.
Perhaps that is why the National Institute of Drug Abuse has already invested over $4 million in research into the connections between addiction and exercise.