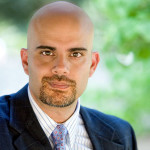 I am excited to announce that a new book is out today from my colleague, Dr. Omar Manejwala. He is the former Medical Director of Hazelden (one of the oldest and most respected treatment organizations in the world), and current Chief Medical Officer of Catasys, an innovative health management company focused on treating substance abuse problems.
I was fortunate to receive an advanced copy of his new book, Craving: Why We Can't Seem to Get Enough
 so I have had the past month to review it thoroughly. If you struggle with addiction, or care about someone who does, then I strongly encourage you to get this book!
Why I recommend this book
I am excited to announce that a new book is out today from my colleague, Dr. Omar Manejwala.
Reason #1
First, craving is a universal experience we all share and it also happens to be at the heart of addiction.
In healthy doses, it is part of what makes us human. But when cravings become so intense that they lead to out-of-control behaviors, then they are not such a good thing.
In fact, they cause significant pain and suffering. For those who have never experienced addiction, imagine holding your breath and then starting to think about air.
How long before your desire to breath becomes an intense craving for air?
How long until the craving for air becomes almost unbearable?
You may think this example has little to do with addiction, but the regions of the brain that control your breathing, heartrate and other survival functions happen to be the same areas of the brain that get hijacked by addiction.
By reading Dr. Manejwala's new book, you will be treated to a very lucid and beneficial explanation of the science of craving. If you are afraid of brain science, have no fear, he makes it very accessible!
Reason #2
Second, once you understand cravings more clearly, you will be in a far better position to do something about them. Perhaps what I like most about this book is that he provides an approach to deal with cravings that links back to the science of what we know about them.
For example, part of the experience of craving is biological. Cravings are not just obsessive thoughts in your head, but are deeply rooted in physical and chemical changes that take place in the brain and body.
Think back to our example about holding your breath. Is your need for air all in your head? Of course not. While we don't require alcohol or drugs to survive like air, cravings have a similar intensity and feel because of what takes place physically in the body.
So interventions focused on addressing the physical aspects of craving are critical. And at the same time, part of what makes cravings so painful is that once they start, they feel like they will never end until acted upon.
The best news of this book is that cravings can be overcome! Dr. Manejwala outlines a wonderful tool box of interventions that address both the physical aspects of craving, but also the painful obsessions that precede addictive behavior. You will learn about the benefits of self-help meetings, meditation, exercise, and being accountable to others.
There are also some tools that you likely have not heard about, which is a testament to the comprehensive and holistic approach taken throughout the book.
Reason #3
Third, I really appreciate his view that:
Courage is, in fact, the most essential quality of recovery, because without courage, none of the other needed practices are possible.
I couldn't agree more! Dealing with addiction and all its complicating and co-occurring problems is not for the faint of heart. Those who engage in the process of overcoming addiction and are willing to face their most intense cravings, are among the best examples in our society of courage.
While I have a lot more to say about this book, Dr. Manejwala and I plan to discuss it over a video chat in the next week or so. Stay tuned for the broadcast and in the meantime, checkout the latest on the book on facebook and order your copy today.