I believe basic truths in life get repackaged in unique or creative ways throughout time, resurfacing in books, self-help strategies, stories, movies, or movements. When these things come on to our radar seemingly for the first time, we either embrace them and they become big hits, or we reject or dismiss the ideas because the timing is off – our society is not yet ready.
How to deal with addiction is one of these "basic truths". Although mankind has behaved in excessive ways for centuries, only in the past couple-hundred years has society evolved the idea of excessive behavior being called "addiction" and requiring intervention.
And,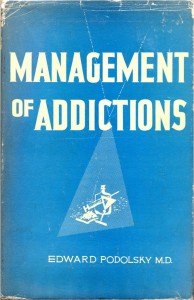 only in the past 5 to 10 years has society been ready to accept the basic truth that addictions are problems that we manage over long periods of time, similar to managing addiction as a chronic condition. In 1955 the book Management of Addictions was published, offering a collection of treatment approaches for alcohol and drug abuse problems.
Although the interventions outlined in the book provide significant evidence for how far we have come in our treatments, what I find most interesting is that over 50 years ago a collection of healthcare professionals embraced the idea of "management" in dealing with addiction.
Addiction as a chronic condition
Today, we give lip service to addiction being a chronic condition and still largely treat it as an acute problem, where average treatment stays can be measured in days or months. At an addiction treatment conference not long ago, I was frustrated by the complete lack of discussion about how to transform our current acute-based system into one that truly embraced addiction as a chronic condition.
It was the elephant in the living room, yet folks went on and on about this ear and that toe…little incremental band-aid solutions to treatment – completely ignoring the opportunity to truly talk about how we might improve care for millions through systems-level change.
I don't blame them. We have invested a lot in our current system, and many have built careers around the status quo. But the time is right to envision a new treatment enterprise that truly embraces addiction as a chronic condition and wisely utilizes resources to optimize long-term patient outcomes.
Idealistic? Maybe so, but the status quo presently sees less than 10% of those in need of help, staff turnover in treatment programs is higher than in the fast food industry, and of those fortunate enough to have access to treatment, most do so multiple times. We can and we must do better.
What does it mean to manage addiction?
We know manage is a verb that implies action. So, what actions are necessary to get us where we need to be, both with our treatment system and in helping individuals who struggle?
3 things to get started
#1 Incent treatment providers
We know multiple treatment episodes are costly because often patients require intensive services (detox, residential, transitional housing, etc.) upon each admission.
We should find creative ways to incentivize or reward treatment providers who can keep patients in treatment for years, decreasing costly hospital admissions and residential stays.
#2 Leverage technology
Over 70% of folks in the U.S. have high-speed Internet, and many of those who don't, can still access it now in many public places. Recent evidence suggests that computer-based treatments may be as effective as individual or group counseling.
Are human counselors soon to be replaced by robots? Likely not, but there is little doubt that in the years to come computer or Internet-based interventions will play a critical role in healthcare delivery.

#3 Manage chronic conditions
Addiction treatment providers (and patients) should beg, borrow, utilize, and adapt management interventions from diverse disciplines.
Significant research has been devoted to the topic of how best to manage chronic conditions, such as the chronic care model.
Let's not reinvent the wheel, but seek out what others have done, and bring practical, useful, easy-to-implement behavioral management tools to those who need them now.
It's your turn
What can we do to start transforming our current acute-based addiction treatment system into one that is similar to how primary care treats other chronic medical conditions?
What self-management or disease-management tools do you believe are the most helpful? How might we package these tools to make them more accessible to the 90% who presently are on their own to deal with addiction?