Not long after my wife and I were married, we decided to proactively increase our chances of staying together by enrolling in one of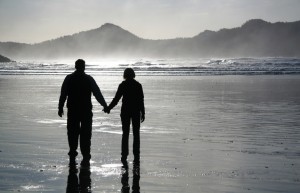 Dr. John Gottman's weekend couples workshops in Seattle. At the time I was deeply immersed in my graduate studies in counseling and was excited to spend some time with the world-famous marriage guru.
What I had not realized was that 1,000 other people would be crammed into the Seattle Center taking the workshop as well, so my chances of a little one-on-one time were not so good. Fortunately, he circulated around while we all were doing exercises and I told my wife that if he ever came within 200 yards we should wave our hands wildly and grab his attention.
The moment came and sure enough my plan worked. He sat down and we began talking about some martial issue that escapes me now. During our conversation I began challenging him a bit about how people really change behavior, at which point he brought up Focusing.
Because I had told him I was nearing completion of my graduate program he assumed I would know all about focusing, but my deer-in-the-headlights response gave me away. I had to admit that never in any of my classes had the word focusing ever been mentioned. I was clueless and a bit embarrassed. He said it was the key to behavior change and I needed to know about it.
Coincidentally, the relative I mentioned a couple of blog posts ago who had given me a bunch of psychology books, had included the book Focusing. Written in the 1970's by Eugene Gendlin, the book is based on about two decades of research analyzing what happens in therapy sessions that explain good outcomes.
What Gendlin found is that it has little to do with the therapist or the specific type of therapy one gets, and far more to do with what happens inside the client. In essence, he discovered that positive outcomes occur when clients have "ah-hah" moments during sessions that awaken them to deeper truths about themselves and life.
These moments occur when we (and clients) go inside and connect with what he calls a felt sense – a pre-verbal inner knowledge or awareness that comes from paying attention to an integrated and holistic aspect of our being that we can access at any time. If this sounds a little new-agey it really is not, it is just hard to describe something that cannot be easily put into words.
Have you ever lost your keys and banged your head against a wall trying to remember where you left them? No matter how hard you try nothing seems to work. So you go on to something else and then, in the middle of folding laundry, it hits you.
You remember exactly where you left them! That moment of remembering is what Gendlin would call a felt-sense, an ah-hah moment that awakened you to an answer that previously was outside your awareness. While focusing can help you find your keys, it really has the power to change your life.
Focusing is the name Gendlin uses to describe the six-step process he developed for helping people – both and in out of therapy – have felt-sense experiences to solve a multitude of life problems, including addiction!
If you have never heard about it, I really encourage you to check out the focusing website and read one of the many books written on the topic. What started as a little research project in Chicago in the 1950s has evolved into one of the greatest tools we have for overcoming addiction.