Each year our government spends approximately:
$95 billion dollars on research to develop new treatments (medical, behavioral, psychiatric, addiction)
$1.3 trillion dollars a year on actual services to patients
Yet sadly, less than $1 billion dollars a year is spent on understanding how to take what we learn from science and research – the new interventions – and implement them in practice. The result is that many opportunities are lost to help people who struggle with a host of problems, including addiction.
Implementation science
Fortunately, there is increased momentum to study implementation science and learn how to get the latest treatment discoveries to the front lines – to the clinicians who can make a difference in people's lives. The movement has been led by Dr. Dean Fixsen who heads The National Implementation Research Network. There is a goldmine of information on this site, including a synthesis of implementation research that can be downloaded for free.
What I find most interesting from this work is:
What doesn't work
We know from a lot of research what does not work. For example, training alone, no matter how well it is done, does not result in successful implementation of new innovations. Sadly, this finding has significant implications in the academic arena, where teacher lectures account for a large percentage of class time.
Applying Evidence-Based Practices
Having a toolbox of evidence-based practices for addiction, as we do today, is one thing, but getting clinicians to use the various evidence-based tools is an entirely different thing. My dissertation research on use of addiction medications provides evidence for this fact.
Components of implementation
Implementing a new practice or innovation requires a number of specific drivers, diagrammed below from a presentation on the NIRN website. Notice that implementation is a process, not a specific point in time, and it involves individuals at all levels of an organization, dedicated to learning and refining new actions.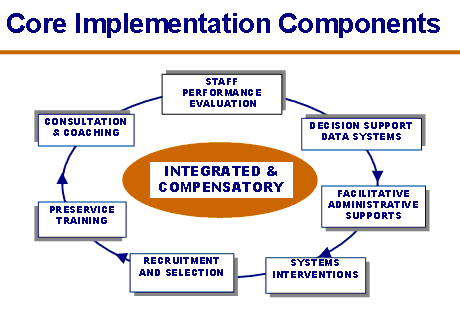 This topic also has a lot of relevance for individual treatment. Learning to manage chronic behaviors, resolve underlying core issues, and engage one's creativity requires implementation of specific actions. This is why therapy is also a process – a collaboration between patient and therapist who work together over time to learn how best to incorporate new  behaviors into the patient's life, and stop or limit unhealthy behaviors.
Writing about implementation science reminds me of an earlier post I wrote about making addiction education stick. To increase the chances that new ideas take hold, whether in an organizational context or in individual therapy, we must make our interventions sticky. To do this we must tell stories, boil down complex issues to their essence, be unexpected in our delivery, and make things concrete so understanding is enhanced.
In the end, there are no short cuts to implementation. 
Remember Wexelblatt's scheduling algorithm. When implementing an innovation you can pick any two out of a possible three choices: cheap, fast, good (i.e., it can be done cheap and fast, but not good; fast and good, but not cheap; or cheap and good, but not fast). Take your pick.