Years ago I worked as an assistant for two neuropsychologists, essentially doing all the face-to-face testing. Usually, this meant 4 to 6 hours crammed into a small stuffy office conducting various cognitive, memory, and intelligence assessments.
3 Important Lessons I Learned:
Although watching patients attempt to stick square objects in round holes had its moments, the lessons I learned about brain functioning have been very influential in my work with those who struggle with addiction.
Lesson #1: It's not intelligence that matters so much as the level of emotional development
I will never forget a couple who were in the process of divorce and both required by the court to submit to neuropsychological evaluations – something to do with custody issues of their children. The husband went first and scored so high I believe he was in the range of genius – it was the highest IQ score I had ever seen in my two years of doing testing.
The next day his wife came in and I was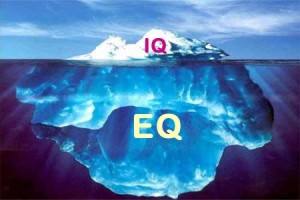 unprepared for her IQ score being half of his! In fact, it was clear she had some learning and developmental disabilities. I immediately began to wonder how these two people with drastically different levels of intellect could remain married for over a dozen years.
Upon further reflection, I realized that intellect is not the glue that attracts or holds people together, it's their level of emotional development.
I have wrote about this in a Stanley Greenspan blog post, but continue to bring it up because it points to the absolute necessity of helping those who struggle with addiction developmentally catch-up from the emotional age at which they are stuck.
There are some really smart people that get caught up in addiction, and often they can be among the hardest to treat because they believe they can think their way out of the problem. But you cannot "think" your way to a higher level of emotional functioning.
Lesson #2: The brain needs time following detoxification to heal before it can absorb, process, and benefit from treatment
Advances in neuroimaging have helped establish addiction as a brain disease. The slide on the right shows that 10 days post cocaine use, an abuser's brain is still very far off from normal baseline functioning (top).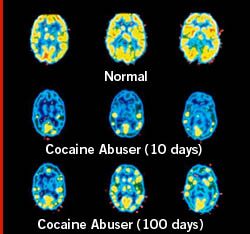 Even more illuminating is the degree to which brain functioning is still impaired 100 days post last use! We see similar profiles for other drugs of abuse including alcohol, and behavioral addictions.
Because neuropsych testing can provide a window into brain functioning, we can use such testing to help us understand how long it takes for the brain to heal to a point at which it is capable of learning, processing, and remembering new information – information such as how to manage addiction over time. Researchers are now doing a battery of neuropsych tests on patients following detox to determine optimal times to begin treatment.
What is clear, is that our current system is set-up to have a person who has completed detoxification immediately enter a residential program. About 1-2 months later – about the time they are being discharged from treatment – is really the time when their brain is ready to benefit from treatment.
I find it sad that significant sums of money are invested in residential programs when science is helping us understand that for treatment to be beneficial a person must not only detox, but also wait a month or two (or even longer, depending on the drug and time used) before engaging in any significant treatment. This of course brings us the messy question of what should a person do between detox and treatment?  I welcome your suggestions…
Lesson #3: Neuropsychological assessments can be critical for understanding how to proceed with addiction treatment
While working as a counselor at a community-based addiction treatment program, I encountered a number of patients who suffered from Traumatic Brain Injury (TBI). Usually, the TBI would come up in the evaluation, or it would become apparent when I did a mini-mental status exam.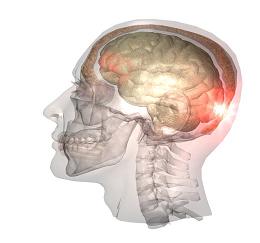 Today, over 5 million people live with a disability caused from a brain injury, and approximately 70% of those in rehabilitation have a current or past diagnosis of substance abuse.
When I first began encountering addicted TBI patients as an intern, I treated them similar to other patients. I did individual therapy, put them in groups, and proceeded to educate them about ways to deal with their addiction. But over time I realized my outcomes were very poor.
Many dropped out of treatment,  others continued but were incapable of remembering what they had learned or how to apply it to their life. Relapse rates were significant. Then I discovered our medical psychology department at the hospital and began referring addicted TBI patients for neuropsychological exams. The reports I got back were invaluable in helping me completely restructure treatment.
Like children, the trick was understanding what they could comprehend and how best to teach them what they needed to learn. I got a blackboard for my office and begin drawing pictures to represent ideas I wanted to get across.
I went slow, paid attention to patients different learning styles, and adapted my treatment approach to the diverse ways in which their brain processed information.
And as you might suspect, my outcomes improved. Utilizing the knowledge from neuropsych assessments, I believe, can make all the difference in the world when working with patients with TBI.