As a society we should be embarrassed by how many of our citizens are in prison due to problems associated with untreated addiction. We have the highest incarceration rate of any country in the world with approximately 2.3 million people behind bars. If we add those on probation and parole the number jumps to almost 7 million under correctional supervision!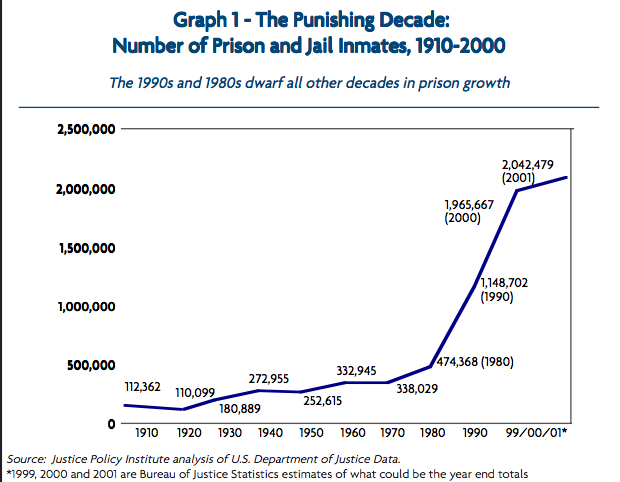 And I have not even mentioned the 70,000 juveniles we are grooming for later prison life. What is so troubling about these statistics is that they are primarily the result of mandatory sentencing laws put in place in the 1980's to enforce the war on drugs.
Most now realize the war on drugs has been a miserable failure. Putting people behind bars when the drivers behind their crimes are addiction-related is costly and fails to address the underlying problem(s). We know that many will get out and that recidivism rates are quite high.
One recent study indicated that more than 1 in 4 offenders return to prison within three years. And we know that when addiction goes untreated it most often returns, leading many who get out of prison right back in. While I believe we need to evolve our drug sentencing laws, and there is evidence that things are changing for the better, this post is not about that. It is also not about the proliferation of drug courts that offer an alternative to prison.
Instead, I want to comment on what we can do for those who are behind bars right now (and will be in the future). In short, I think we should make use of their time in jail to prepare them to succeed in life once they get out.
Can we succeed?
Here are a few outcomes I think we as a society should support:
Stay clean and sober, manage co-occurring disorders, and maintain physical health
Use personal talents to benefit society
Develop a spiritual life
Keep learning and growing as a person
Obey society's laws
Seek out help when times become stressful
I am sure you can add to this list, but it is a good start.
Achieving these goals
In short, we develop a technology-based intervention system that individualizes behavioral health treatment and education for a fraction of what it would cost to utilize humans (nothing against humans). Some thoughts on why I believe developing a technology based intervention system is more than possible.
Studies show that timing is critical for helping people with many problems, including addiction, depression, and other life issues. (Those in prison have nothing but time, and are in a place where we can take advantage of a motivational window of opportunity.)
Computer memory is superior to humans and can track far more information about a person's life, and leverage points for change.
New treatment interventions can be programmed into the system, where there is a much longer learning curve for humans.
Delivery of interventions can be more consistent.
Online systems can track outcomes in real-time and make adjustments accordingly. (Most treatment today doesn't include a formal outcome process, let alone changing therapy based on adaptive outcomes.)
Relationship with an online system can last indefinitely, whereas human counselors are less consistent. (i.e., the turnover rate in addiction treatment programs is higher than in fast food restaurants).
Online treatment is significantly less costly than human treatment.
Studies show people are more apt to disclose sensitive issues to a computer than a human. (Issues like:  sexual abuse, domestic violence, child abuse, shaming behaviors.)
An online intervention system can link and communicate more consistently with other important stakeholders in a person's life, including: primary care physicians, specialty providers, medication providers, legal system, pharmacies, insurance providers, complementary and alternative care providers, mental health and addiction programs (if necessary), and employers.
Online systems are flexible and can consult with humans when necessary – so human's time can be used most efficiently (i.e., expert humans are not replaceable, they are just in limited supply).
And perhaps most important, the system can be utilized to manage ongoing treatment and educational goals both in and outside of prison seamlessly, and help manage parole and probation responsibilities.
Is it easy to develop and implement?
No. I think it would require a lot of work on behalf of many stakeholder groups. But I believe it is what we need to do as a society if we care about our future and the future of our children.
I also made a couple of brief videos on how I would utilize the 5 Actions framework in an online system for those behind bars. Excuse the coffee breaks, it is early Sunday morning.
Intervention to Those Behind Bars: Part 1 
Intervention to Those Behind Bars: Part 2