Last week I watched the independent film Race to Nowhere that has won numerous awards for its strong messages about our broken educational system. Through interviews with students, parents, teachers, and others, the movie illustrates the dark side of being a kid in school.
The Race to Nowhere for students is paved with an over-scheduling of activities, too much homework, too little sleep, and increased stress that is resulting in health problems, drug abuse, eating disorders, and suicide.
Qualities of a Good Education
What is even more troubling, is that for all the effort kids are putting into their school work and extracurricular activities, many are being churned out of our educational system lacking some of the most important qualities of a good education, including:
Ability to reflect deeply on topics
Handle difficult emotions in the face of stress
Successfully engage in a wide range of healthy relationships
The film points the finger at numerous perpetrators, but in the end, fails to hit home that no one individual person or group is to blame, but rather it is the entire educational system that we must examine more carefully if we are to find the truth behind the worrisome outcomes. When I think about the fact that over 80% of those who end up struggling with addiction begin their behaviors prior to the age of 15, this film frightens me even more.
When did school get so competitive and stressful?
Much of the over-scheduling of extra-curricular activities and hours of homework is in response to the demands, both perceived and real, associated with getting accepting into a college or university.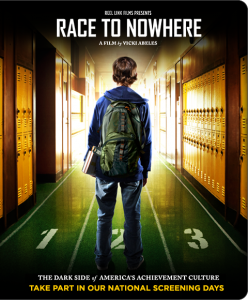 What is sad is that the stress and pressure begin long before high school. My wife and I spent a couple of years tearing our hair out (the little I have left) trying to identify and enroll our son in the best possible elementary school.
I put more time and effort into researching options, attending open houses, completing enrollment packets that included writing lengthy essays, than I ever did applying to graduate school!
The process was absolutely crazy, and I know we were not alone. And now I know it was just the beginning. Race to Nowhere illustrates painfully many of the current antecedents to addiction, and why we absolutely must reexamine our understanding of what education means and how we are going about educating our children.
Failure to do so will only lead to a new generation of addicts.