In my life there have been many times when I felt isolated, disconnected, and alone. These times have never  been pleasant, and in the absence of nurturing relationships, close friends to call on, or a tribe of my own, I coped by engaging in substitute relationships with work, money, entertainment, food, hobbies, and exercise – just to name a few).
For every thousand hacking at the leaves of evil, there is one striking at the root
Thoreau
For years I felt shame about many of my behaviors, and my inability to connect in deep ways with others. Now I understand that so much of my adaptive behaviors were a response to underlying root problems, problems that needed resolving and hampered in significant ways my ability to initiate, develop, and maintain intimate and nurturing relationships with people. I also believe that now, more than ever, those who struggle with addiction share similar root causes that need to be addressed if successful longterm outcomes are to materialize.
The roots of addiction go much deeper than the adaptive behaviors that so often are the focus of intervention efforts. This is because dealing with the symptoms (addictions) are easier than dealing with the root causes. I have long believed that addiction is a problem best managed over time like other chronic illnesses. But successful management necessitates addressing what drives the addictive behavior in the first place.
It requires knowing how to turn down the flame, dig out the roots, and resolve problems that are solvable. These underlying roots come in many shapes and sizes, but there are two forms that I believe are the primary drivers of addiction today.
Adverse Childhood Experiences
In the mid 1980's, physicians from Kaiser Permanente's Department of Preventative Medicine in San Diego made an interesting discovery. Those who were losing the most weight and succeeding in the weight loss program were the ones most likely to drop out and quit. Was it because they no longer needed the program? Nope.
Further investigation revealed that the majority of dropouts did not maintain their weight loss and went back to struggling with problems of overeating and obesity. Why did they quit if they were succeeding in the program?
A deeper look revealed that overeating and obesity were used as tools to cope with unresolved adverse childhood experiences (ACE's). In most cases, overeating was an unconscious behavior utilized as a protective solution to these unresolved childhood problems.
How was it unconsciously protective?
In many cases, the ACEs involved sexual, physical or emotional abuse. Developing a relationship with food was safer than developing intimate or nurturing relationships with people who might abuse again. Being obese unconsciously deterred romantic interests and physically enhanced protection of the body.
The finding that most of the participants in the weight loss program had prior ACEs led Kaiser to collaborate with the Centers for Disease Control (CDC) to explore the link between ACEs and general health outcomes.
The study involved over 17,000 middle-class Americans and has produced over 50 scholarly research journal articles. Among the most significant findings in the study was that two-thirds of the participants reported at least one ACE, and more than one in five reported three or more ACEs.
In addition, the higher a person's ACE score, the more addictive behavior was utilized as a coping response as outlined in the graph below (graph source: The Origins of Addiction by Vincent Felitti).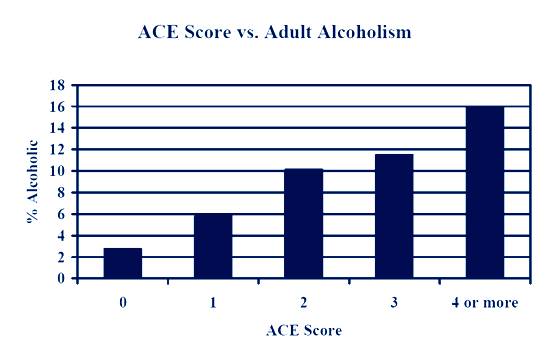 Here you can see that as the number of ACE scores increase, so too does the percent who meet criteria for alcoholism. This finding is detailed in an insightful paper titled The Origins of Addiction by the lead researcher of the study, Vincent Felitti.
What the ACE study helps us to understand is that the roots of addiction are real, diverse, and if left unaddressed, will continue to fuel the behavior we are so badly trying to manage (or end).