Dr. Sandra Bloom is a psychiatrist largely responsible for the creation of the Sanctuary Model, which is both a framework for treating trauma, as well as an organizational change model that integrates evidence-based trauma interventions with the benefits of therapeutic communities.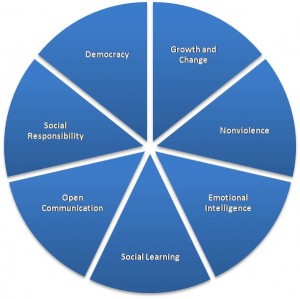 The brilliance of this model is that it optimizes the safety and healing of all parties involved in social systems of care: patients and clinicians, prisoners and judges, victims and advocates, addicts and counselors. It is a model, in my opinion, that is applicable across all organizations no matter what their purpose, because it provides a roadmap for how humans should treat one another, no matter what position they may find themselves in.
Why do we need it?
Because most social/healthcare service organizations are in crisis. U.S. healthcare problems were detailed in a number of publications by the Institute of Medicine, with outcomes indicating that the U.S. has the most expensive healthcare system in the world, yet ranks far down the list in terms of overall quality. But it is not just our healthcare system that is in dire need of overhauling.
Our education, criminal justice, mental health, child welfare, and…yes, our addiction treatment system are all struggling to meet the needs of the populations they serve. The Sanctuary Model suggests that the problems are rooted in unhealthy systems, not individual people. If we understand the system, we then stand a chance of making changes within the system that ultimately translate into better outcomes for all involved.
Across the different social systems, the problems are similar: reduced funding, decreased training and education, more paperwork, more surveillance and  micromanagement, greater staff turnover, and lots of stress across all levels of organizations.
These factors then translate into organizations that are chronically stressed, attempting to do more with less, always operating in a reactive/crisis mode, ultimately leading to folks being chronically hyperaroused.
In this state, it is like Brian Farraher, CEO of Andrus Children's Center has said,
Managing like your hair is on fire
Stress leads to a loss of basic safety and trust, a breakdown of emotional intelligence, behaviors that result in more conflict, and staff who feel disempowered. As relationships become strained, more autocratic approaches to leadership emerge, and then folks just stop talking. In essence, organizations stop learning. The outcomes are costly for all involved.
The Sanctuary Model is the antidote
It acknowledges that stress, trauma…life problems, exist not only in the clients who show up for help (or are mandated for help), but also in the helpers.
Seven Commitments
The served and the servers are mirrors of each other, and both require focus and attention on seven commitments:
Growth and Change
Non Violence
Emotional Intelligence
Social Learning
Open Communication
Social Responsibility
Democracy
The details of the commitments, and how best to implement them are documented on the Sanctuary Website and in Creating Sanctuary: Toward the Evolution of Sane Societies
. If we ignore the warning signs so clearly right in front of us,
Human history becomes more and more a race between education and catastrophe
HG Wells, Outline of History, 1920
Implementing the Sanctuary Model in organizations, and incorporating the commitments into all of our lives, means embracing our responsibility to the common good of all people, to our future, to our planet.