If you have seen the acclaimed documentary, Finding Vivian Maier, than you know she was somewhat of an enigma. For those who have not seen it, it's the story of a mysterious nanny who spent much of her life taking pictures, but never showed them to anyone. Only when a young historian and collector, John Maloof, acquired the majority of her life work, including some 125,000 negatives, more than 30,000 prints, and all sorts of video and tape recordings, has she made her way into the public light.
The movie follows John's obsession to uncover who Vivian was, and why she led such a reclusive life when her photographic talents likely would have made her famous.
She died alone in a nursing home in 2009, just days before John began searching her out on the internet and found her obituary. It's hard not to believe fate played a role in bringing the two together.
While her images are amazing and deserving of attention, I believe Vivian would have wanted the more thorny and painful story of her life known as well. Delivered in bits and pieces in the movie, here is my attempt to address her behaviors in a more cohesive light.
Origins of Pain
Evidence points to Vivian being sexually molested as a young girl, likely by her father or another close family member. The abuse probably motivated her mother, who was French, to take her to live in France on multiple occasions growing up. The genealogist interviewed in the film said the family was unusually disconnected, further indicative of families coping with abuse and shame.
Learning to Survive
Vivian was a resilient survivor in part because she constructed an internal world where no one was allowed to get close to her and hurt her again.  Much has been said about her boyish dress, short hair, and manly gait, but all of these gestures put space between her and other men, furthering her defenses in the world.
Her employers were all required to furnish her a separate locked room while she worked as a nanny, and no one was ever allowed inside. Often she went by different versions of her real name, and at other times, blatantly used fake names concealing her true identity. She even went so far as to talk with a French accent even though she was American. While these behaviors in the movie cast Vivian as an eccentric, collectively they point to a woman with a fragmented psyche who was doing her best to stay safe and survive.
Being a Nanny

Many question why she chose the profession of nanny, but given her trauma history, working with children made all the sense in the world. Trauma impedes emotional developmental beyond the age at which the trauma occurs.
As a result, Vivian's emotional developmental age was likely similar to the children she cared for, again, allowing her to feel safe with them. As an adult, there is evidence that she longed for intimate connections, but developmentally she did not have the capacities to make it happen. So she spent most of her life alone or with children.
Hoarding Behavior
For Vivian, stuff became surrogate relationships for people. She collected stacks and stacks of newspapers, most containing horrific headlines of rape, murder, and "the folly of humanity." They represented an important space in her internal world, and part of her psychological attempt to make sense of her early trauma. When one of her employers gave a stack of papers to a neighbor who needed to tape off an area for painting, Vivian went ballistic, which is understandable when you realize what they represented to her.
Although she also hoarded many trinkets and collectibles, her relationship with her photographic images were the most important. They represented a window into her soul, one that she vehemently protected. While a part of her knew she was a masterful artist and wanted to share her work, another more powerful part feared what might happen if she did so, and compulsively had her lock her images away for no one to see.
The Images

All photographs copyrighted by Vivian Maier / Maloof Collection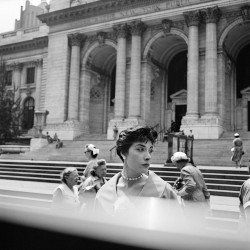 Her photographs represent mirrors of herself, so it's no surprise that many are of the darker side of life. Many show faces of emotional pain, sorrow, and loneliness, expressions that had meaning in her life. Because trauma is so painful, many survivors turn to addiction as a way to help manage unresolved emotional distress.
While some may reject the idea that photography became Vivian's addiction, I believe it makes perfect sense. Picture taking became her way of escaping emotional pain, and while initially a positive habit, became something she compulsively did.
Those in the film commented that she was never seen without her Rolleiflex around her neck, and that often crafting images usurped her duties as a nanny. She often would take children to seedy places to shoot, likely compulsively because these parts of town unconsciously activated her trauma in ways that made her feel alive.
I can imagine when she was behind the camera, she felt a sense of power and control.
The Dark Side
When those interviewed in the film began discussing Vivian's dark side – her rages, rants, and cruel outbursts – I initially felt anxious. Perhaps it was my anticipation about what I was about to hear. It's also cinematically what makes the film gripping. But it wasn't long before my anxiety was replaced by sadness. Her dark side was really a collection of behaviors commonly seen in victims of trauma. When her tightly wound stress-response system was pushed to the edge, her reaction was one of fight, flight or freeze. Such responses make complete sense in the context of her life. But for those around her with little understanding of the nature of trauma, Vivian was a loose canon whose mental health was in decline.
When someone in the film talks about Vivian pushing food down a child's throat so forcefully the kid chokes, she is made out to be a perpetrator. But we must remember that Vivian had the developmental age of a child, so her behavior was likely motivated by her fear to keep the child alive. In another situation when a man makes a move in public that threatens her, she hauls off and smacks him so hard he gets a concussion and ends up in the hospital. In both cases, her reaction is the fight response to trauma, not the behavior of some evil witch.
Final Words

Vivian was many things, but a mystery – not so much. Her life was typical of those who experience trauma and shame and never receive treatment. She desperately wanted to connect with others, but this is not so easy when you are a scared child trapped in the body of an adult. Sadly, her photos are perhaps the closest she allowed others to reach her soul.
I would have liked to have known her, as I believe there would have been opportunities to help her make sense of her life. She was bright, articulate, opinionated, and on many levels very engaged in life and her surroundings. She was a fighter, but in the end died alone with a broken heart.
While I know Vivian would be proud of John for sharing her images with the world, I also believe she would have wanted her life to speak to the journey of being a trauma survivor. She would want us all to understand how her life and her images represent the struggle we all endure to be seen, heard, protected, and loved.